BIBI
A NEW GENERATION OF FABRICS:
THE TECHNOLOGICAL REVOLUTION OF MICROFIBRE, UP TO 7000 KM OF MICROFILAMENTS IN A SQUARE METRE SURFACE
The technological revolution of microfilaments gave birth to the ultimate generation of microfibre: the Ultramicrofibre Bibi.
Bibi is a polyester and polyamide microfilaments fabric (0.15 dtex). It is treated with high-pressure water jets in order to interlace and strengthen the microfilaments, creating the fabric. The Ultramicrofibre has more benefits than the classic one, by being thinner and having polyester and polyamide fibres. Thanks to these features, it can hold dust and mites (electrostatic effect) and it has absorbing characteristics even for oils and fats. The technology used for making our Ultramicrofibre is the result of a unique and worldwide patented textile production process.
Our microfilament technology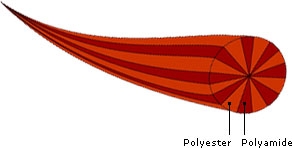 Polyester and polyamide grains are converted in filaments in sequence.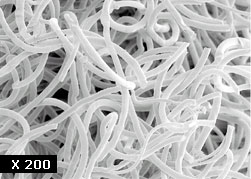 The filaments are equally disposed on a conveyor belt.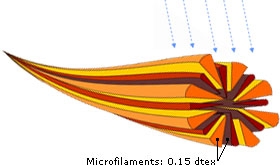 High pressure water jets divide the filaments into microfilaments.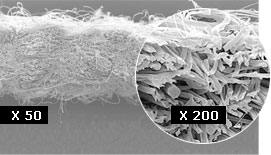 At the same time, these water jets interlace and strengthen the microfilaments, making the Ultramicrofibre BIBI.